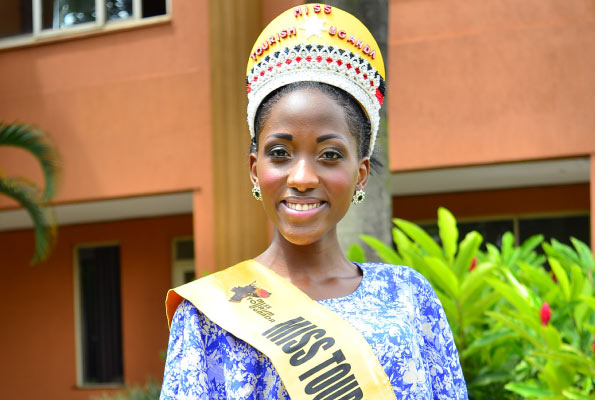 The crowd waited anxiously. The second runner-up, Norah Atim from northern region, and the first runner-up, Jean Marie Roberta Magoba from Busoga region, had already been announced. Now, it was time to declare who the Miss Tourism 2014/15 was. And when her number and name were read out, Patricia Ntale Babirye walked upfront beaming, to receive her crown.
As all this was happening, she could not come to terms with what was going on around her. Babirye says she was in shock.
"After the names of the second and first runners up were read, I just kept smiling and could not wait for the time to leave stage because in my mind, I kept telling myself that I cannot be Miss Tourism," she states while adding, "When they finally read out my name, I was very surprised. I was smiling, but my mind was elsewhere."
When we meet for this interview two days after she was crowned, Babirye is dressed in a blue and white patterned knee-length dress, with green high-heeled shoes. She sits upright with her legs crossed, her Miss Tourism sash and crown in place. She is accompanied by her identical twin sister, Priscilla Ntale Nakato, and beauty pageant trainer, Sarah Nyamwenge.
Her competition in the camp
"I expected Jane Walker Mulungi from Kigezi region to win. She is brilliant and always carried herself quite differently from the other girls," she says.
One of the seven judges at the pageant, Dr Sarah Nkonge Muwonge, the Senior Private Secretary to President Museveni, says Babirye emerged winner due to numerous reasons including portraying a high level of confidence, commanding presence on stage, having a good catwalk and answering questions correctly.
"All the girls were beautiful, brilliant and tall but then she stood out the most," Dr Muwonge says. The questions Babirye was asked included where exactly tree climbing lions are found in Queen Elizabeth National Game Park, whose response she gave as Ishasha.
The name of the elephant at Uganda Wildlife Education Centre (UWEC) which she answered Charles and which problems are facing the tourism sector in the country and she pointed out as infectious diseases which instil fear among tourists, low marketing skills and high flight costs.
Babirye in boot camp
Before the finale, the 27 Miss Tourism finalists from different regions were in boot camp for three weeks where they were given lectures on the tourism sector in the country as well as trained on catwalk, poise, and public speaking. Only nine girls made it to the finale that was held last Friday at Kampala Serena Hotel as eliminations were done each week basing on question and answer criteria.
Babirye says the biggest obstacle she faced during this time was learning how to make the three-quarter turn, a catwalk manoeuvre that requires the model to make a turn before the judges and audience. "She once run out of the training room crying out of frustration because of this turn," recounts Nyamwenge, the trainer.
Sometimes, Babirye felt a bit intimidated by the other girls as she thought she was not as good as they were. "There were moments I was so sure I could not beat the other girls. This was mostly during the early days of boot camp when I was not so used to them," she says. However, their friendly nature made her open up eventually.
Having spent one week at boot camp myself as a contestant, I remember Babirye as a friendly and down to earth girl. She knew I was a journalist and would often tease me that once the pageant was over; I find something to write about her.
"Make sure you win then," was often my reply. I find it a little bit strange that now this has come to pass. Because of the close association, she ended up having with all the 26 finalists, Babirye wants to involve them all in her upcoming projects.
"Each of the girls has something valuable to contribute towards the tourism industry and I want to work with all of them," she explains.
Her plans
Babirye is expected to market Uganda's tourism potential nationally and internationally by showcasing her diverse and rich tourism potential. She is also charged with representing the country at this year's Miss Tourism International, which will be held in Malaysia in December. One of the projects she is already embarking on involves enhancing culture among the locals.
"I am planning on making visits to different areas encouraging people to develop pride in their cultural dances and playing of their native musical instruments," she says. We shall have to wait and see what other tasks the newly crowned Miss Tourism has in store for the tourism sector.
Titbits
Relationship status. Let's not focus on that because right now my attention is directed towards tourism. But you have not answered the question.