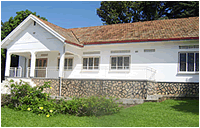 Hellouganda avails you with Houses for sale & rent in Uganda, residential, commercial, real estate in Kampala, land for sale, lease, industrial properties, real estate developers, house brokers, plots for sale, space to let, housing, apartments, flats, bungalows, Houses to let in Kampala, mortgages, Construction in Uganda, , Kampala houses housing finance, real estate in Kampala, property consultants, hotels in Uganda.

We now have the largest residential agency portfolio of any estate agency on Kampala. Knight Frank Uganda is the preferred commercial agent in Kampala fully let 15,000 Sq M Crested Towers, Rwenzori Courts and House within the past 6 years, exceeding both the rental and timing expectations of the owners.

The department has also let premises both in sole occupant and multi tenanted buildings to many of the main corporate, aid and diplomatic institutions in Kampala over the last three years.

KF ensures that any company, organisation or individual requiring property in Uganda is catered for. The department acts for a large number of landlords ranging for international corporations to local individuals in selling or letting their premises.